Natural Headache Treatment with Chiropractic
Natural Headache Treatment with Chiropractic
Written By Millville Chiropractic Center on August 24, 2020
---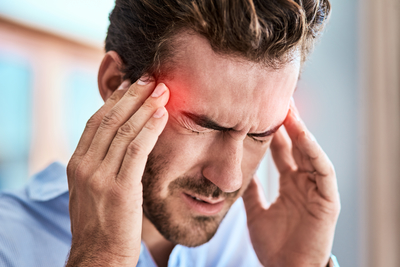 While headaches are common, they can become debilitating. A study in 2015 found that around 20 percent of women and 9.7 percent of men in America experienced a migraine or serious headache within three months. Around 4 percent of the U.S. population suffers from headaches for at least 180 days within a year.
What do you do when headaches become debilitating? Chiropractic care offers a natural headache treatment without the risk of side effects or dependency that medications present.
Primary Headaches and Their Triggers
Ninety-five percent of headaches are referred to as "primary headaches." These headaches, including migraines, tension, and cluster headaches, are not caused by another condition or disease. For some, primary headaches may be frequent, debilitating, and caused by triggers such as:
Stress
Noise or lights
Poor sleeping habits or sleep disorders
Changes in blood sugar
Excessive exercise
Certain smells
Caffeine
Natural Headache Treatment Options at Home
There are several natural headache treatments that you can perform at home to reduce the frequency and severity of headaches, including:
Avoiding your headache triggers
Avoiding sitting or standing in a fixed position for more than 30 minutes at a time
Maintaining a good posture
Low-impact exercises or stretches
Avoiding teeth clenching
Using Chiropractic for a Natural Headache Treatment
Chiropractic care provides relief from primary headaches, including migraines. Your natural headache treatment may include:
Chiropractic adjustments to improve spinal function and alleviate tension and stress
Lifestyle and dietary recommendations
Posture and work ergonomics guidance
Exercises, stretches, and relaxation techniques
Visit Our Office for Natural Headache Treatment in Millville
Are you suffering from frequent or severe headaches? Chiropractic natural headache treatment provides relief by reducing the frequency and severity of primary headaches. Here at Millville Chiropractic Center, our chiropractors offer a patient-focused approach to every case. Your first visit will include a consultation, a review of your medical history, the symptoms you are experiencing, and a physical exam. In most cases, same-day natural headache treatment is available to provide relief right away.
Are you looking for natural headache treatment in Millville? Don't put up with headaches. Contact us today at (856) 327-0320 to schedule an appointment and get started.

Posted In: Chiropractic Natural Pain Relief Headache Treatment