Workplace Ergonomics - How to Maintain Optimal Health and Energy
Workplace Ergonomics - How to Maintain Optimal Health and Energy
Written By Millville Chiropractic Center on February 26, 2021
---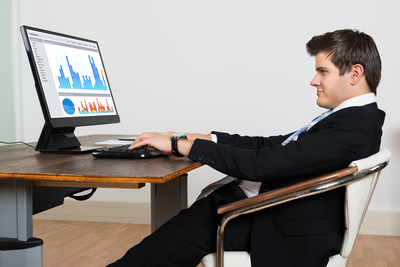 Workplace-related injuries account for 6.3 million injuries in the United States each year, with over one million of these incidents resulting in chronic or acute back problems. Workplace injuries can prevent workers from engaging in everyday activities, reduce production, and account for lost wages. Back pain alone makes up more than 264 million sick days annually.
Employees need to keep good workplace ergonomics in mind to avoid injury and maintain optimal health and energy, especially workers who have begun working from home and no longer have employer guidelines to help with safety on the job.
3 Simple Ways to Optimize Workplace Ergonomics
Here are three simple ways to optimize workplace ergonomics to prevent injury and stay healthy.
1. Maintain a Neutral Posture
Maintaining a proper body alignment can boost your mood and prevent pain and injury. Keeping a neutral posture is essential, regardless if you sit or stand on the job. It's important to avoid slouching and, when standing, hold your chest high, keep your shoulders back and relaxed, and keep your feet parallel. If you are sitting, make sure your feet are flat on the floor.
2. Optimize Your Workstation
Good workplace ergonomics are essential when setting up and adjusting your work station. If you work at a computer desk, make sure that your chair is positioned to allow you to rest your feet flat on the floor while keeping your knees level with your hips. All of your frequently used items should easily accessible to avoid overreaching.
3. Stretch and Move in 30 Minute Intervals
Not moving enough throughout your day can lead to stiffness, pain, and an increased risk of injury. It's essential to make sure that you get up and move or give yourself time to stretch at least once every 30 minutes.
Workplace Ergonomics and Chiropractic Care in Millville
Maintaining good workplace ergonomics is essential to your health and wellness, but nothing can guarantee you against injury. Each year, around 22 million Americans seek chiropractic care services to treat back pain, neck pain, headaches, muscle strains, and workplace injuries. Chiropractic care is a non-invasive, natural treatment option that treats pain at its source rather than covering up symptoms.
The Millville Chiropractic Center team have become cornerstones of the Millville community for their patient-centered approach to chiropractic care. Your first visit will include a physical examination and a discussion of your medical history, the symptoms you are experiencing, and the chiropractic treatment options that will work best for you.
Have you been injured due to poor workplace ergonomics? Chiropractic care can help. Call our office at 856-327-0320 today to schedule an appointment.

Posted In: Chiropractic Workplace Ergonomics