How to Prevent Neck Pain While Sitting at Your Computer Desk
How to Prevent Neck Pain While Sitting at Your Computer Desk
Written By Millville Chiropractic Center on March 26, 2021
---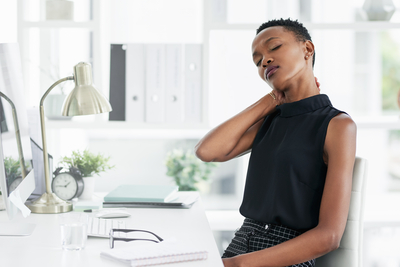 On average, American workers spend about 39 percent of the workday sitting. Several occupations, including drivers, software and application developers, insurance sales agents, and lawyers, may spend as much as 90 percent of their workday sitting.
If you routinely work at a computer desk, you may have experienced moderate to severe neck pain. Your neck contains seven small vertebrae that support the weight of your head and provide you with flexibility and movement. But, this area is sensitive and easily susceptible to injury and pain. While common, you can reduce neck pain at work by following a few simple steps.
3 Ways to Prevent and Reduce Neck Pain at Work
Do you spend a lot of time sitting at a computer desk? Here are three ways that you can prevent and reduce neck pain at work.
1. Maintain a Neutral Posture
Poor posture can cause back and neck pain, stiffness, muscle pain, and headaches due to the extra stress placed on your neck, spine, and joints. To reduce neck pain at work, strive to maintain a neutral posture throughout your day. Avoid slouching and keep your back flush against your chair and your feet flat on the floor.
2. Limit Your Phone Screen Use
Most people bend their heads forward whenever looking at their phones or other handheld devices. But holding your head in this position can strain the muscles in your neck and contribute to lasting injuries. Try to limit your screen use throughout the day and, whenever possible, answer emails on your computer rather than on your phone.
3. Optimize Your Workstation
Optimizing your workstation is a great way to reduce neck pain at work. Ensure that all of your frequently used items are easily accessible. This will prevent excessive reaching and help you maintain your neutral posture throughout the day.
Chiropractic Neck Pain Treatment in Millville
While there are many steps you can take to reduce neck pain at work, it's essential to seek treatment if you have persistent or severe neck pain. Chiropractic care offers a natural neck pain treatment that does not rely on the use of medication.
The Millville Chiropractic Center's team provides chiropractic neck pain treatment in Millville. Through a patient-focused approach, treatment plans are tailored to your individual needs. That's why your first visit will include a consultation, physical examination, and a discussion of your medical history, symptoms, and neck pain treatment options. In many cases, same-day treatment is available.
Are you experiencing persistent, acute, or chronic neck pain? Chiropractic neck pain treatments can help. Call our office at 856-327-0320 today to schedule an appointment.

Posted In: Chiropractic Neck Pain Treatment Workplace Ergonomics